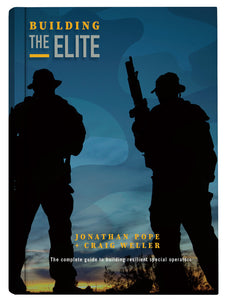 If you live outside the US or Canada, or prefer an e-book, you can pick up the digital (Kindle) edition by clicking here. Or, the Apple Books edition is here.
Expanded, updated second edition
The second edition of the book includes 125 pages of new content, including expanded chapters on: running, rucking, swimming, water confidence, strength training, work capacity, breathing, and building workouts. 
For the past 10 years, Craig Weller and Jonathan Pope have trained people for the toughest SOF selection courses in the world. They've trained candidates for courses in every branch of the U.S. military, as well as five other countries, including British SAS selection.
Their clients have a 90% success rate which means 9 of 10 people make it through. (BUD/S and SFAS have drop-out rates ranging from 60-90%, FYI.)
In Building the Elite, they give a detailed look at their SOF training system - from big-picture principles to practical exercises and programming guidelines.
Section 1 - Principles 
Introducing Systems
Thinking in Systems
Dealing with Complexity Well
Dealing with Complexity Badly
Minds, Models, Principles
Changing How You Think
Movement and Physical Resilience
Psychological Aspects of Motor Learning and Skill Development
Stress, Pain, and Fatigue
Skill Acquisition
Section 2 - Practical Application
Performance Training Model, Norms, & Physiological Profile

Mental Skills

Nutrition
Movement 
Energy Systems, Breathing, Running & Rucking, and Swimming 
Strength & Power 
Work Capacity
Open-Ended Workouts
Building Workouts  
Example Programs

Mental Models
This is a 538-page textbook designed to serve as a long-term reference guide for special operations prep or for anyone looking to perform at a high level.  
Everything in this book matters
This book got me through my ERT selection despite being 15 years older than the second eldest guy there but to be honest I didn't really appreciate it until I became a trainer and started to evaluate the performance of others. Musashi's advice is very cogent here: "Study this book; read a word then ponder on it. If you interpret the meaning loosely you will mistake the Way." Everything here is relevant-if you as a reader don't cherry-pick and absorb all the lessons that are presented here your chances of making it through experiences that crush most people will skyrocket.
Excellent reading / thinking in systems
Useful in so many facets of life -- I have purchased copies for teams at work to reset/reframe how we go about our daily business.
Mind blown
I've been a firefighter for 8 years, done various fad workouts and diets, mindfulness practices, etc. BTE has blown me away in how tightly packed and complete it is. I'm just beginning to read through it all a second time, and so far I'm already seeing the results. Fantastic knowledge base for anyone in a demanding profession!